Land Alive™ Kettle Corn is the Midwest's Original Kettle Corn -- Made in Nebraska.
Hey Nebraska - Let's BUY LOCAL! Wanna see Land Alive in your store? Here's our REQUEST form.
"Your kettle corn is amazing, all my friends agree! I think you should deliver it out here!" -- Erica, Scottsbluff
About Land Alive™ Kettle Corn - the Midwest's Original Kettle Corn
Jeff Cole is the owner of Land Alive™ Foods. He re-branded his start-up company, Capitol Kettle Korn, to Land Alive™ Foods in 2011 and has built the business from there. He got his start in his family's kettle corn business which began in the mid-90's. "I was just a little kid then, but I remember people not even knowing what kettle corn was." His family's company, Five Star Inc. manufactures the KettleKorn Express® machine which is in use across the United States and around the world.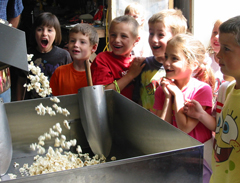 Jeff says, "I am excited to introduce Land Alive™ Kettle Corn to your grocery store shelves. It is such a fun food and people just love it. We are proud of our four simple ingredients: Popcorn, oil, sugar and salt. The only thing you have to watch out for is having enough to go around. We have found people don't like to share when it comes to kettle corn."